When venturing into the realm of prefabricated steel garages, you'll be greeted with a wide variety of customization options to choose from, each playing a crucial role in shaping your steel structure. Among these choices, the selection of the roof style stands out as a huge decision, and it's essential to explore the good and the bad of each option to ensure that it aligns perfectly with your needs. Luckily, at Prestige Steel Structures, we're here to provide you with a comprehensive understanding of the three distinct roof styles available, allowing you to make an informed and confident choice when looking for your metal building. 
Regular Roof Style
This is often referred to as the standard roof style, and it comes as the default choice for our standard steel garages. In the regular roof style, steel panels are installed horizontally, running parallel to the sides of your building. One of the defining characteristics of this style is the rounded ends on the sides, which not only add an aesthetically pleasing touch but also contribute significantly to its efficiency in safeguarding your valued possessions from typical weather conditions. The regular roof style boasts features such as a galvanized frame, end roof trim, and horizontally oriented roof panels.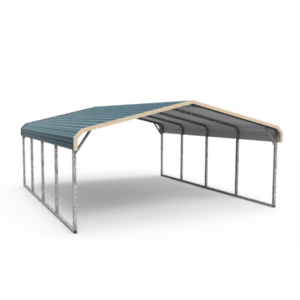 Boxed Eave Roof Style
Also known as the A-frame horizontal roof style, the boxed eave roof style introduces a touch of residential charm to your steel building. In this style, steel panels are installed from the front to the back, offering an elegant and budget-friendly option. Key features of the boxed eave roof style include a galvanized frame, end roof trim, A-frame style, eve roof trim, and horizontally oriented roof panels. This roof style caters to those seeking an affordable roofing option that not only looks appealing but also provides reliable protection against moderate weather conditions, such as standard rainfall, sunlight, and winds.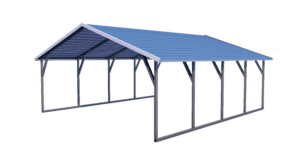 Vertical Roof Style
Renowned as the top-tier choice in terms of durability and performance, the vertical roof style sets the gold standard for metal garage roofs. In the vertical roof style, steel panels are installed from the center to the sides, creating an efficient and sleek design that not only enhances the visual appeal but also offers a host of practical advantages. The standout feature of the vertical roof style is its remarkable ability to promote water and snow dispersion, ensuring that your roof remains pristine and requiring minimal maintenance. Features of vertical roof steel garages include a ridge cap, full deep eave side trim, a galvanized frame, full deep-set roof trim, A-frame style, and additional steel channels that provide an extra layer of support and strength to the roof structure. The panels in this style are mounted vertically, with each panel being half its actual size, an arrangement that significantly bolsters the structure's integrity.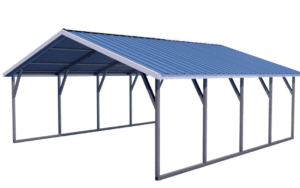 The roofing panels are further fortified with hat channels, a detail that takes the strength and durability of steel buildings to the next level. When selecting the right roof style for your building, it's essential to take into account local building codes and regulations. In some areas, the vertical roof style may be mandated due to its proven performance in severe weather, making it the only choice for installation. However, in locations where local codes permit flexibility, you have the option to choose from all three styles.
At Prestige Steel Structures, we're dedicated to ensuring that your steel structure not only fulfills its functional role but also enhances the aesthetic appeal of your property. With an array of garage options that cater to various budgets, our easy Financing solutions can help simplify the financing process, making your dream building attainable. What's more, our streamlined delivery process ensures that your structure is efficiently installed on your property, minimizing lead times.
If you find yourself uncertain about the ideal building type for your unique needs, our experienced team is just a phone call away at 877-487-4631 or you can email us at sales@prestigesteelstructures.com. We're here to provide you with the best metal garage solution, ensuring that your investment perfectly aligns with your needs, preferences, and local regulations.